About the
moveUP app,
tablets and activity trackers:
US Label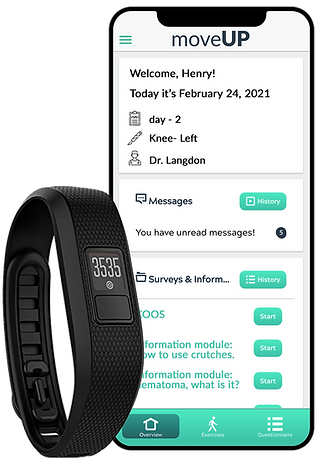 moveUP app & devices
​The moveUP app runs on:
iPhones/iPads (iOS 11.0 or newer)
Android systems (Android 7.0 and newer).
​Tablets
In specific cases the following tablets are provided and are supported:
Lenovo Tab 3 – Android 6.0.1 or Higher
Huawei MediaPad T3 – Android 7.0.0 or higher
​Activity trackers
The following activity trackers are currently supported
Garmin Vivofit 3 and Vivofit 4
Nokia Withings Go
Download size
IOS – 78.4MB – version 1.30.0
Android – 39MB – version 1.30.0
Compatible browsers
moveUP needs an internet connection when in use.
For your data safety please enable the 2 factor authentication (2FA) and use a safe network
Tradename
moveUP
Made in Belgiun
The product is software
Manufacturer
moveUP NV/SA
Cantersteen 47,
1000 Brussel, Belgium
Inclusion criteria:
Age:

minimum: 18 years
maximum: no limit

Weight: NA
Health & condition: capable of performing basic activities of daily living
Language: understanding one of the available languages of the app (Dutch, French, German, English)
Exclusion criteria:
Patients who are mentally incompetent or having troubles to express what they are feeling (for instance, mentally diseased people, people staying in elderly care centres, …) are excluded.
Patients who are not capable of operating a tablet/smartphone and activity tracker.
Patients who can't understand one of the available languages of the app (Dutch, French, German, English)
Warnings
moveUP is not an emergency tool. In case of emergency please contact your doctor or call 911 .
moveUP is not intended to monitor/treat vital parameters of critical illness.
moveUP companion is not a replacement for any treatment you need to follow, but is used as an addition.
Patients need to be aware that if questionnaires are not completed on a frequent basis or not answered truthfully, the care team has more difficulty understanding your health situation & progress.
The moveUP app offers personalised healthcare based on the patient's profile and therefore can not be shared, borrowed or traded between users. The information and advice of the moveUP application do not apply to any other patient other than the one whose profile is stored in the application. The patient cannot grant access to the moveUP app to third parties. Other people could accidentally send wrong information or change the profile of the patient, with the result that the moveUP- guided advice is no longer applicable to the needs of the patient.